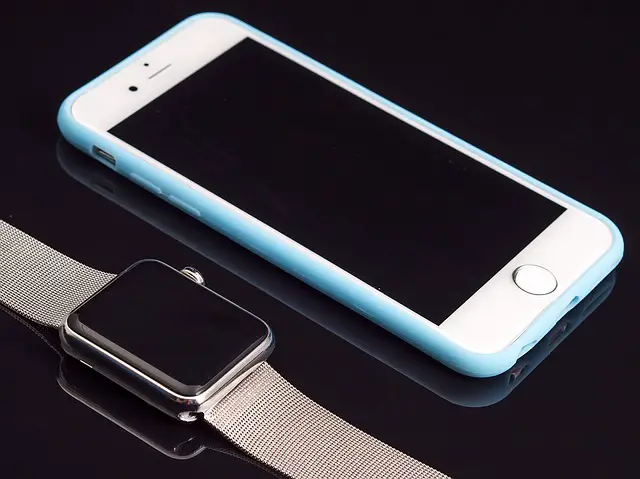 Smartwatches have, over the years, become one of the most desirable accessories. Since the early 2010s, the concept of practically converting smartphones to wristwatches has almost been perfected. 
The earliest smartwatches performed rather mundane tasks such as basic math calculations, personalized alarms, generic games and of course, digital time telling. Modern smartwatches now come with their own operating systems and mobile applications. You can now play music and videos on your smartwatch, make phone calls, connect to the internet amongst other things. Specialized apps for smartwatches include compasses, heart rate monitors, thermometers and pedometers. 
In addition, modern smartwatches support Bluetooth connectivity, WIFI, and GPS technology. These wireless technologies enable users to connect their smartwatches to their smartphones. As a result, your smartwatch can double as a front end for your mobile phone. 
For more information on what a smartphone can do, click here to read our article — How Do Smartwatches Work?
Apple, Samsung, Sony, Huawei and a host of other mobile technology companies have produced a long line of smartwatches. While Apple smartwatches have watchOS as their mobile operating system, the most popular android smartwatch mobile operating system is Wear OS developed by Google Inc. 
Connectivity between smartwatches and smartphones is dependent on the operating system of the watch. In this article, we focus on how to connect a smartwatch to an android phone. There are a few ways to do this, the simplest being via Bluetooth technology. 
Method One: Using Bluetooth Connectivity
Click here to get the Fitbit Versa 2 Health & Fitness Smartwatch with Heart Rate, Music, Alexa Built-in, Sleep & Swim Tracking, Bordeaux/Copper Rose, One Size (S & L Bands Included)!
This method could be used in cases where the smartwatch app on your mobile phone does not provide options for connectivity. It could also be used for smartwatches with no specific mobile app available for download. 
On your Android phone, go to phone settings and tap on Bluetooth. Your settings can easily be identified as a gear icon in most android phones. Some android phones allow direct access to the Bluetooth menu from a drop-down menu available when you swipe down from the top of your smartphone.
Switch on your Bluetooth by swiping the Bluetooth switch into its "on" position.
If you are connecting your Android device to the smartwatch for the first time, you should make your mobile device discoverable. This option should be on the same menu where the Bluetooth switch is. Some phones are set to be discoverable by default.
Switch on your smartwatch. Switch on the Bluetooth on your smartwatch by tapping on the Bluetooth icon in the app menu and toggling the switch on (or as the case me be, depending on the model). Ensure the smartwatch is discoverable if not set to be so by default. 
Your smartwatch should be listed with the available Bluetooth devices visible by your Android phone. If you cannot see your smartwatch in this list, try to refresh the list by tapping the refresh icon or by tapping "search for devices". Once your smartwatch is visible, tap on it to request pairing. 
A Bluetooth pairing request should pop up bearing a code. Confirm that this code is also visible on your smartwatch. Accept the pairing request by tapping "pair". 
Now that the watch is paired, you have established connectivity between your Android phone and your smartwatch. It's important that your smartwatch and smartphone are in close proximity to establish a strong Bluetooth connection.
Method Two: Using WearOS App
Click here to get the TicWatch C2, Wear OS Smartwatch for Women with Build-in GPS, Waterproof, NFC Payment, for iOS and Android,Rose Gold!
To ensure full functionality and compatibility between smartwatch and smartphone, you can also connect using the WearOS App for smartwatches using the WearOS operating system. 
Install WearOS app from Google Play Store. To do so enter "WearOS" into the search query of the Google Play store App. Once found, tap INSTALL to install this app on your mobile device. 
Turn on your smartwatch which already runs on WearOS system. If this is the first time you are switching on this smartwatch, select your desired language and agree to the terms of use. 
On your Android device, open the WearOS App. It will be identified by its multicolored "W" icon in your applications menu. Tap on "start set up"
Review the terms of agreement shown on your Android device and tap on "Agree".
The software will request if you are interested in sending usage data to Google. Tap on "I agree" if you are interested, and "no thanks" if you are not. 
When the set-up runs, the name of your smartwatch should appear on your mobile device. Tap on it. A pairing code will appear on both the smartwatch and your smartphone. Confirm that the codes are the same and tap pair. If the codes are not the same cancel the pair, restart the watch and retry the process from the start. 
Once paired, follow the on-screen instructions as desired, to complete the set-up process. When complete, your smartwatch will be fully compatible with your smartphone and ready to use. 
Method Three: Using The BT Notification App
Click here to get the YAMAY Smart Watch for Android and iOS Phone IP68 Waterproof, Fitness Tracker Watch with Heart Rate Monitor Step Sleep Tracker, Smartwatch Compatible with iPhone Samsung, Watch!
The BT Notification App can be used to connect android smartphones with most low-end smartwatches. 
Go to Google Play Store on your mobile and download BT Notification App. There are two of them available on the Google Play Store. Install both of them. 
Open the first BT Notification App after installing. The app will prompt you to enable accessibility. Tap "Ok". This will take you to the accessibility menu on your Android device. Toggle on the accessibility for BT Notification and BTNotification. This allows compatibility and accessibility of your smartphone to your contacts and text messages on your Android device. 
Turn on your smartwatch and turn on the Bluetooth connectivity on it. Also, turn on Bluetooth connectivity on your smartphone. Ensure that both devices are set to visible. 
Search for a new Bluetooth device on your smartwatch or smartwatch (whichever you please). You should see the name of the device. Click on it and accept the request to pair. 
A pairing code will be presented to the receiving device. Accept the pairing. 
Your smartwatch will request to sync data and time with your Android device. Accept this request. Your smartwatch will now be connected and in-sync with your Android phone.
A demonstration on connecting a smartwatch to an android phone using the BT Notification App can be found here.
Method Four: Using The Mediatek SmartDevice App
Click here to get the Kalakate Smart Watch for Men Women, IP68 Waterproof Smartwatch Android iOS Compatible, Fitness Tracker with Calorie Distance Steps Sleep Heart Rate Monitor, Stainless Steel Metal Mesh Band (Black)!
There are several smartwatches that have the Mediatek chip installed in them. To connect such smartwatches to an android phone, the Mediatek Smart Device App can be used. 
Go to Google Play store to download the Mediatek SmartDevice App on your Android mobile and install it. 
Open the Bluetooth settings on your watch. Turn on the Bluetooth connectivity and ensure that it is visible. Turn on your phone's Bluetooth also and ensure it is visible. Also, open the Mediatek SmartDevice App.
Select "my device" in the Bluetooth settings (as the case may be) of your smartwatch and search for new device. 
When your phone's name or ID shows up on your smartwatch, tap on pair. A pop-up on your Android device with a request to pair and a pairing code will be visible. Accept to pair on your Android device. 
The smartwatch will ask if you want to sync time and date to your Android device. Tap on accept. 
On the Mediatek SmartDevice App, go to notifications in the settings. This allows you to select which android apps you would like to receive notifications from on your smartwatch. Toggle the apps you want to receive notifications for on or off. A list of personal apps and system apps will be shown. 
After the initial connection with your smartwatch and Android phone, further connections must be initiated on the android phone and not on the smartwatch. Ensure your Bluetooth is switched on, on your Android phone before you switch on the smartwatch. The connection will be made instantly. 
The Mediatek SmartDevice App works for the following smartwatches: DZ09, Q18, A1, GT08 and U80. 
You can find more information on using this app to establish connectivity between your smartwatch and Android phone here.